New Build Homes
When building a home or residential development, hiring a reliable and efficient construction company is undoubtedly essential. However, before you can get to that stage, you'll need to consult a new homes architect and structural engineer.
Whether you're investing in a self-build home for your family's future or a development to add to your portfolio, achieving robust and well-designed new homes requires specialist input from the start of the planning process.
At RD Engineering, we can help with the architectural design of new build homes, and ensure that all new homes are built safely thanks to our structural engineering expertise.
New build home architects
Before you can start building, you'll need to design the structure, including the layout and exterior. Most new buildings will require a qualified architect to design the building, using their technical knowledge to create a house that's both aesthetically pleasing and completely functional.
When you contact RD Engineering to benefit from our architectural services, we can assess the feasibility of your new build project and come up with detailed drawings of your new house architecture using computer-assisted design software.
Crucially, we can make sure that your building design adheres to the relevant safety codes and regulations in the UK – our structural engineers will use these plans and drawings to recommend appropriate structural designs and materials.
Local authorities will also expect copies of your blueprints and architectural drawings if you submit an application for planning permission or Building Control approval, as will warranty providers.
New build home structural engineers
When designing new build homes, structural engineers work closely with new build architects to achieve your vision in a way that doesn't compromise on strength or stability, ensuring that the completed house is structurally sound.
As qualified engineers, the load-bearing structural elements we assist with include foundations, walls, roofing, floors, openings for doors and windows, and more. We carry out thorough assessments of the site and architectural plans, run through careful calculations, and produce technical reports advising on the best construction methods for these elements.
Analysing load-bearing capacities and impact resistance also allows us to recommend suitable materials for your design specifications. Whether your structure includes timber, masonry, concrete, steel, or glass, we may alter designs to improve their safety while adjusting the outward aesthetics as little as possible.
Foundation design is one of the most significant aspects of a new build, as a failed foundation can compromise the safety of the entire house on top of it. Our site investigations and risk assessments will ensure that foundations and drainage are laid correctly in suitable ground.
Having structural engineers on board to check that your new build is up to code can help to avoid costly errors during construction, and prevent hazards or problems from developing in the future.
New housing developments
From single new homes to new build housing developments, our team can work with yours to find cost-efficient, visually attractive, and safety-compliant solutions for your project. We're experienced in a range of domestic and commercial developments, so you can trust RD Engineering to deliver high-quality results, no matter the size and scale.
Whether you're planning a small number of new houses or a large housing estate, or even building or converting apartments, we can bring our architectural and structural engineering skills and industry knowledge to your residential construction project to ensure its success.
We work in close collaboration with individual clients and property development teams alike, delivering comprehensive services tailored to each project's unique needs. Speak to our new home architects and engineers yourself to learn more about what we can do to help.
Call our team on 01257 445 010 or hit the button below to arrange a free, no-obligation consultation. Alternatively, you can scroll down to fill out our enquiry form and submit your details, and we'll be in touch soon to get your new build discussions underway.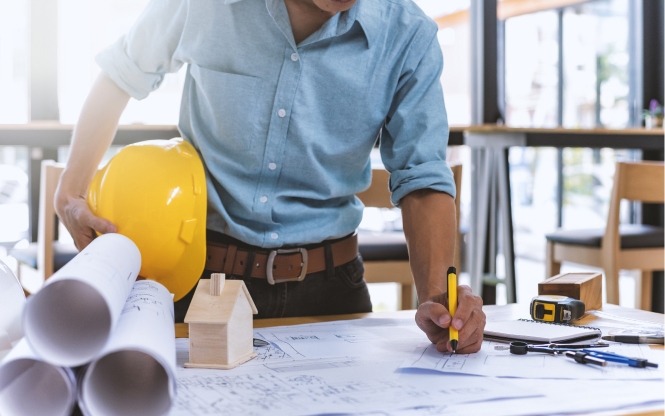 For your
FREE

non-obligation discussion with a member of the RD Engineering team please contact us Below:
Enquire Now & Contact The Team
If you are embarking on a domestic or commercial renovation that requires structural engineering or architectural design input, contact the professionals at RD engineering for your free no obligation advice and quote.
Our Latest News
Find out what we have been up to by reading some of our news, blogs and events.
How structural engineers could help your construction project
If you are in the planning stages of a construction project in Manchester, or any of the surrounding areas in the North West, it's likely that you will need the help of professionals, like structural engineers, to design safe, functional, and long-lasting buildings. Structural engineers specialise in designing strong load-bearing structures. They ensure that everything […]
Read More
Our Clients