Domestic and Commercial Architecture
Whether you want to create residential architecture or industrial architecture, for a home or for a business, the team at RD Engineering can help you to turn your ideas into a beautiful reality with our detailed architectural design services.
From the initial concept of your project through to completion of the design, or even completion of the final structure, we can provide professional guidance and resources to achieve the property design you've been envisioning – making sure it's doesn't just look good, but stands the test of time, too.
Do you need assistance from an expert in coming up with proposals and drawing plans, applying for regulatory approval, carrying out quality surveys, and liaising with interior designers? All the services you need are available under one roof here at RD Engineering.
Architectural Services in the UK
Looking for help with a new build, extension, or self-build design? We can assist you with preparing your architectural plans from start to finish and beyond, supporting you throughout until the authorities sign off on your building completion certificate.
When you hire an architectural designer to work with you, from initial contact to the finished structure, the process looks something like this:
Concept proposal – brief development, feasibility studies, cost information, sketch proposals
Initial planning – outlining design schematics, appointing consultants, estimating costs
Design approval – final detailed design, planning permission and regulatory approvals
Construction contracts – tender analysis for contractor bidding and negotiations
Site supervision – onsite visits and assessments of materials and workmanship
Depending on the type and extent of architectural services you require, we can help with any stage of this process, whether it's for one of these steps, a combination of a few, or all of them.
Architectural Designers in the North West
There are plenty of architectural designers out there to choose from, so what makes us different? At RD Engineering, we stand out from the crowd because we don't just specialise in architectural design, but also in structural engineering services.
You can hire a member of our highly qualified team for one or both, but we always bring our extensive knowledge of structural integrity to every architectural plan, and our understanding of architectural design to every structural analysis.
We pride ourselves on supplying quality architectural services throughout North West England at competitive prices. We'll gladly work with individuals or full teams on domestic architecture or commercial architecture designs, so contact RD Engineering to arrange a consultation today.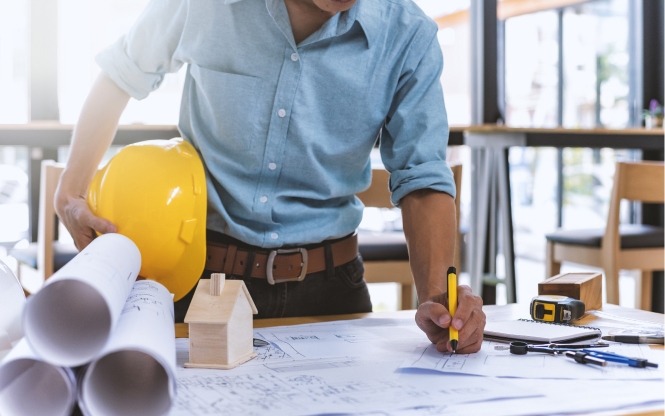 For your
FREE

non-obligation discussion with a member of the RD Engineering team please contact us Below:
Enquire Now & Contact The Team
If you are embarking on a domestic or commercial renovation that requires structural engineering or architectural design input, contact the professionals at RD engineering for your free no obligation advice and quote.
Our Latest News
Find out what we have been up to by reading some of our news, blogs and events.
How structural engineers could help your construction project
If you are in the planning stages of a construction project in Manchester, or any of the surrounding areas in the North West, it's likely that you will need the help of professionals, like structural engineers, to design safe, functional, and long-lasting buildings. Structural engineers specialise in designing strong load-bearing structures. They ensure that everything […]
Read More