Commercial Developments
Are you planning to make significant structural alterations to a building to change its purpose, or to build a new structure for commercial use? Whether it's a redevelopment or brand new commercial development, you'll need the help of a commercial structural engineer.
From site investigations to building plans to completion assessments, commercial architects and commercial structural engineers are essential to the functionality and safety of such projects.
If you're looking for qualified professionals to assist you with commercial architecture and commercial developments across North West England, then you're in the right place.
Commercial Structural Engineers
While a structural engineer might have limited involvement in a simple domestic building project, larger and more complicated commercial development projects will require in-depth expertise from start to finish. That's where highly trained engineers like the RD Engineering team come in.
When constructing high-rise buildings and laying complex foundations, or adjusting load-bearing walls or floor levels in an existing multi-storey buildings, it's vital that you have commercial structural engineers like us on board to review and enforce structural integrity measures.
We can work closely with your core design team and construction team to make sure that your project proceeds with only the best materials and building plans, complying with building regulations and health and safety laws whilst bringing your architectural vision to life.
Commercial Developments Structural Engineers
During the development and construction of commercial buildings, the look and style of both the outside of the structure and the interior layout are some of the most important aspects. Commercial architects are invaluable when it comes to the commercial design element, as we can help to create detailed blueprints and generate 3D building models using specialist software.
However, architects need to work with engineers to ensure that there is adequate safety beneath their style choices. Structural engineering for commercial developments is just as important, if not more – and there are many ways that our engineers can guide your project:
Site investigations – e.g. ground inspections and soil analysis to make sure the site can accommodate the planned building.
Construction plans – e.g. foundation design, structural material choice (taking environmental loads and other stresses into account).
Project management – e.g. supervising coordination between teams, providing regular reports, ensuring all legal and safety requirements are met.
As specialists in structural design, the engineers at RD Engineering have the necessary knowledge and experience in managing construction risks and working within environmental, engineering, and budget constraints. We can help you to avoid potential defects and to complete a commercial development that's cost-effective, structurally sound, and fully functional.
Commercial Property Development
We have worked on a variety of residential, commercial, and industrial structural engineering projects here at RD Engineering, which is why we're the best choice when you need structural engineers for commercial developments in the North West.
Our decades of combined experience in the industry mean that we're more than capable of assisting with a wide range of commercial development types, such as:
Flats or apartment buildings
Retail parks and business parks
Health centres and leisure centres
Educational and medical facilities
Commercial office blocks
Hotels and food courts
Factories and warehouses
Multi-storey car parks
Mixed-use developments
So, whether you need commercial architects or commercial structural engineers, or both, from feasibility studies and early stage planning to ongoing construction and structural surveys, RD Engineering has the expertise your commercial building project needs to succeed.
To learn more about what RD Engineering can do for you, to arrange a no-obligation consultation, or to request a quotation for a planned commercial development, please get in touch with us today.
You can do so through the contact form on this page, by emailing us directly at info@rd-engineering.co.uk, or by calling our head office in Wigan on 01257 445 010.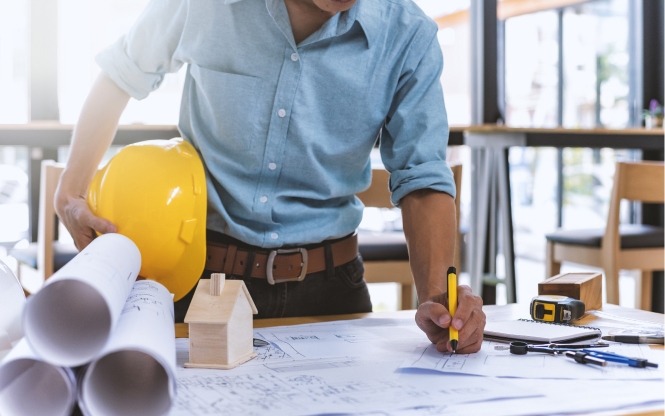 For your
FREE

non-obligation discussion with a member of the RD Engineering team please contact us Below:
Enquire Now & Contact The Team
If you are embarking on a domestic or commercial renovation that requires structural engineering or architectural design input, contact the professionals at RD engineering for your free no obligation advice and quote.
Our Latest News
Find out what we have been up to by reading some of our news, blogs and events.
How structural engineers could help your construction project
If you are in the planning stages of a construction project in Manchester, or any of the surrounding areas in the North West, it's likely that you will need the help of professionals, like structural engineers, to design safe, functional, and long-lasting buildings. Structural engineers specialise in designing strong load-bearing structures. They ensure that everything […]
Read More