Propping Design
When construction works involving refurbishment or demolition take place close to other structures or buildings, the project will need a temporary works scheme to ensure safe surroundings.
One such method is the use of a temporary propping system, which is an engineered solution to create structural support that can be removed once the works are complete. Temporary propping works protect not only the structure being worked on and the people working on it, but also other nearby structures and members of the public passing through.
Temporary propping design is necessary to prevent overloading and potential collapse – and with the risk of such severe consequences, it's worth having qualified civil engineers on your team to design temporary propping and make sure the permanent works are finished safely.
Temporary Works Propping
Propping works are crucial to the success of construction works, whether external or internal, as it wouldn't be possible to carry out the work at all without maintaining the existing parts of structures to avoid partial or full collapses.
There's a range of different temporary propping systems available, so it's important to involve a trained structural engineering expert who can assess the project plans and the site to design the appropriate temporary propping for the specifications.
Some of the most common uses of temporary propping works include the following:
Retaining walls – raking props run down to a concrete footing, transferring loads from the wall
Back propping – high vertical load transfer through multiple stories to the ground slab
Façade retention – bespoke solutions to stabilise building façades during refurbishment or internal structural work (common for heritage-listed buildings with demolition limitations)
Uplift reduction – transferring loads away from areas with potential uplift to the ground
Tilt bracing – accounting for wind loads while suspended pre-cast concrete panels set
From fitting or removing lintels to large-scale formwork, temporary propping design is all about efficient load management, which is why certified structural engineers like us are key members of such project teams.
We collaborate with the relevant parties at every stage to carry out inspections, perform calculations, and design the right systems with the right materials for safe temporary propping, overseeing its implementation from installation to dismantling.
Temporary Propping Design
If you are looking for a temporary propping design service, then you've come to the right people. RD Engineering has the knowledge and industry experience to produce detailed and reliable solutions for a variety of building types and construction settings, no matter how simple or complex.
When you bring our structural engineers on board, we can conduct site surveys to analyse the site constraints of the proposed construction project, assess its feasibility and use technical calculations and tests to produce recommendations for the temporary propping requirements.
Thanks to our computer-assisted design (CAD) resources, we can create precise drawings and even 3D digital models of your temporary propping design to help you visualise the way it will be implemented and what it will look like during use.
Our propping designs take the full scope of the project into consideration, so they can be used to safely erect and dismantle temporary works around existing or new permanent structures and guide construction smoothly, keeping things on-schedule and reducing costs where possible.
If requested, we can also perform further structural inspections throughout. This not only gives you peace of mind that the propping system is working as it should, but also ensures that construction is progressing safely and any issues are caught before costly remedial work may be required.
Whether you only need our help at the planning stage or from start to end, we can tailor our services to meet the needs of your construction project and provide a bespoke quote for your requirements.
Contact RD Engineering for Propping Design
Choose us for your bespoke propping design and you will benefit from an efficient and cost-effective service, tailored to your project conditions for competitive rates. Our structural engineers are highly qualified and more than competent in delivering successful temporary propping solutions of different scales and at different stages.
The collaborative and client-focused way we operate means you can count on professional support whenever you need us for the duration of your temporary propping works, fulfilling our commitment to high standards of customer service.
To learn more about temporary propping design works with RD Engineering and what we can do to improve your project, hit the 'contact us' button or scroll down to the enquiry form below to submit your enquiry. We'll be in touch soon to arrange your free initial consultation, where we can discuss what you're looking for in more detail.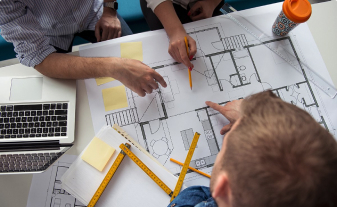 For your
FREE

non-obligation discussion with a member of the RD Engineering team please contact us Below:
Enquire Now & Contact The Team
If you are embarking on a domestic or commercial renovation that requires structural engineering or architectural design input, contact the professionals at RD engineering for your free no obligation advice and quote.
Our Latest News
Find out what we have been up to by reading some of our news, blogs and events.
How structural engineers could help your construction project
If you are in the planning stages of a construction project in Manchester, or any of the surrounding areas in the North West, it's likely that you will need the help of professionals, like structural engineers, to design safe, functional, and long-lasting buildings. Structural engineers specialise in designing strong load-bearing structures. They ensure that everything […]
Read More
Our Clients