Garage Conversions
Do you need more living space, but don't want to move house? Have you considered converting your garage into an extra room instead?
If you already have a garage that you don't really use, converting this into a liveable room could be much easier and more cost-efficient than building a new domestic extension.
When the garage isn't needed for parking a car, many people find that it simply becomes a storage space full of junk – but you could transform this into something far more useful, whether that's a family 'den' or an extra bedroom.
Not only will this create more space for your family, but it will also add value to your house – making your home feel larger and increasing the property value without actually extending its footprint.
While most garage conversion projects won't require planning permission, most will need Building Regulations approval, so it's essential to plan carefully and follow professional advice. If you want to ensure that your garage conversion is functional, visually appealing, and above all structurally sound, you should bring an architect and/or a structural engineer on board.
At RD Engineering, our team includes both, so you're in the right place to make sure you design a garage conversion that can be completed to the highest standards.
Converting a garage into a room
There are many ways to change the use of your garage, but there are also a lot of considerations to bear in mind. You'll have to consider whether you need to insulate the roof, how the garage door will be replaced, if the floor needs to be raised, whether you need a larger doorway connecting the garage to the house, etc.
The intended purpose of the space will determine what needs to be done to bring your garage up to spec – from insulation and electrical wiring to plumbing and drainage. Converting a garage into a bedroom is a popular option for families with growing children who want their own rooms, while adding a home office with a garage office conversion is a great solution for those who need a private space to work at home.
Depending on your budget, other fun garage conversion plans include creating a playroom for smaller kids, a games room for teens, a home gym for adults, or a home cinema for the whole family. Or perhaps you would prefer a practical utility room, kitchen extension, or extra bathroom – or simply a more organised storage room.
Whatever the case may be, as long as you don't need to extend the garage externally, integrated garage conversions are usually classed as 'permitted developments' that don't require planning permission from your local authority.
However, there are some conditions that would require applying for permission for 'change of use' – including a detached garage conversion, converting the space to a self-contained 'bedsit' or 'granny flat', adding windows that may affect neighbour privacy, changing a listed historical building, or carrying out any building work within a conservation area.
Making use of our knowledgeable architectural planning and structural engineering services could help you achieve an effective, on-budget, and compliant garage conversion.
Convert a garage to a living space
Even if your project doesn't need planning permission, it still needs to comply with Building Regulations. No matter whether it's a single garage conversion or a double garage conversion, you're likely to make structural changes to turn it into a habitable living space that must follow minimum safety standards.
Building Regulations for garage conversions affect the design choices you can make not just for the layout, but also for everything from thermal performance to fire safety. A compliant conversion must meet the legal requirements for:
Insulation and damp-proofing of the roof, walls, and floor
Energy-efficient glazing and ventilation
Fireproofing and a safe fire escape route
Extending mains electrical supply and plumbing
Structural integrity (ground, walls, support beams, roof, etc.)
For example, converting the structure to a full room requires infilling the garage door, which can be done by bricking up the gap, adding glazing, or a combination of both. The foundations must be assessed by a structural engineer to make sure they can bear the additional weight.
This is even more important if your house has a room above the garage or a two-storey garage, as the foundations and walls may need to be reinforced. Similarly, if you're constructing a dividing wall for a half garage conversion, it must be structurally stable and built with fire-rated materials.
Making changes that fall under these regulations means you'll have to notify the local council before work begins and submit an application with a building notice or full plans for Building Control approval. When you work with our architects and engineers, we can liaise with local authorities for you to ensure the correct procedures are followed to complete a safe and legal garage conversion.
Get help with your garage conversion
When it comes to planning a garage conversion, of course you'll want to have as much input as possible in the design – but you'll need expert guidance to make sure the design you want is attainable not just within your budget, but also within the scope of health and safety laws.
Architects and structural engineers like ourselves can execute garage conversions smoothly by:
Evaluating the existing structure and calculating load capacities for the new design
Optimising the architectural design with appropriate elements and materials
Identifying potential problems and providing solutions for seamless integration
Working with authorities on your behalf to assist with planning submissions
Overseeing work and providing ongoing support through project management
We have plenty of experience working with homeowners and business owners alike to implement garage conversions of all kinds, so you can rely on RD Engineering to provide an efficient and collaborative experience that offers excellent value for money.
To arrange a free, no-obligation consultation with our team, click below to get in touch or scroll down to submit your details via our online enquiry form. We'll be glad to discuss your garage conversion ideas with you and get started on making them a reality as soon as possible.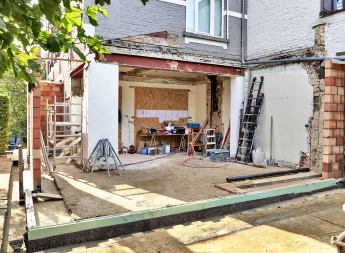 For your
FREE

non-obligation discussion with a member of the RD Engineering team please contact us Below:
Enquire Now & Contact The Team
If you are embarking on a domestic or commercial renovation that requires structural engineering or architectural design input, contact the professionals at RD engineering for your free no obligation advice and quote.
Our Latest News
Find out what we have been up to by reading some of our news, blogs and events.
How structural engineers could help your construction project
If you are in the planning stages of a construction project in Manchester, or any of the surrounding areas in the North West, it's likely that you will need the help of professionals, like structural engineers, to design safe, functional, and long-lasting buildings. Structural engineers specialise in designing strong load-bearing structures. They ensure that everything […]
Read More
Our Clients