Steelwork Design
From cars and ships to bridges and skyscrapers, steel is one of the most common construction materials used around the world – and has been for more than a century.
Structural steel is integral to the 'skeleton' framework of most multi-storey buildings, whether through columns, beams, and cores or foundations and floor systems.
The strength, durability, and flexibility of steel is ideal for the fabrication of architecturally impressive structures, but steelwork design wouldn't be possible without structural engineers.
Experts like RD Engineering are needed to carry out and refine the complicated analysis and calculations involved in creating structural steelwork design specifications.
With our help, steelwork designs can progress from conceptualisation to completion, achieving a robust and beautiful structure that both meets client needs and complies with regulations for structural steelwork in the UK and Europe.
Structural Steelwork Design
Steel design is a key part of structural engineering, as frames and pipelines of this material are implemented in all kinds of domestic, commercial, and industrial structures.
From high-rise buildings to aircraft hangars, train stations to sports stadiums, the design of structural steelwork is essential for urban construction projects of all sizes. It can incorporate not just the framework, but also elements such as walkways, mezzanine floors, stairs, and fire escapes.
Steelwork engineers like ourselves can work with teams of project designers, architects, and construction contractors to provide the most appropriate steel design solution.
Starting with the architectural design, we can assist with or fully manage the structural concept development, through analysis of the steel structure design to verification of materials and load conditions. Our specialist CAD software (computer-assisted design) ensures accuracy and efficiency for the design and planning of any kind of steelwork project.
Steelwork Design & Planning
Wondering why you should choose RD Engineering for your steelwork design project? Our team has more than 25 years of experience in various civil engineering disciplines, working with many different clients across a variety of industries and sectors.
This means we have the hard-earned expertise and hands-on experience that your steel design project needs to succeed, with proficiency in using specialised analytic and modelling software. When we join your project, you're guaranteed fast and cost-effective solutions that never compromise on quality or safety standards.
Our proactive collaborative approach ensures that we can produce steelwork designs to meet even the most exact specifications. From your initial ideas through to steel fabrication and site support, RD Engineering can guide your build to fruition with an expert hand.
Whether you're looking for detailed drawings and 3D modelling for a brand new build or want to re-design or alter the framework of an existing structure, RD Engineering can help.
Contact us by phone or email or fill out our online form to arrange a steelwork design consultation with our team, who will be happy to discuss your structural steel design project with you.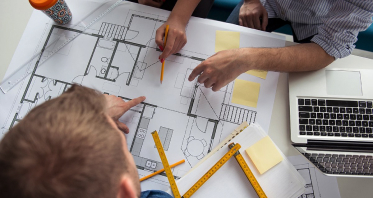 For your
FREE

non-obligation discussion with a member of the RD Engineering team please contact us Below:
Enquire Now & Contact The Team
If you are embarking on a domestic or commercial renovation that requires structural engineering or architectural design input, contact the professionals at RD engineering for your free no obligation advice and quote.
Our Latest News
Find out what we have been up to by reading some of our news, blogs and events.
How structural engineers could help your construction project
If you are in the planning stages of a construction project in Manchester, or any of the surrounding areas in the North West, it's likely that you will need the help of professionals, like structural engineers, to design safe, functional, and long-lasting buildings. Structural engineers specialise in designing strong load-bearing structures. They ensure that everything […]
Read More